Newsletters & Annual Reports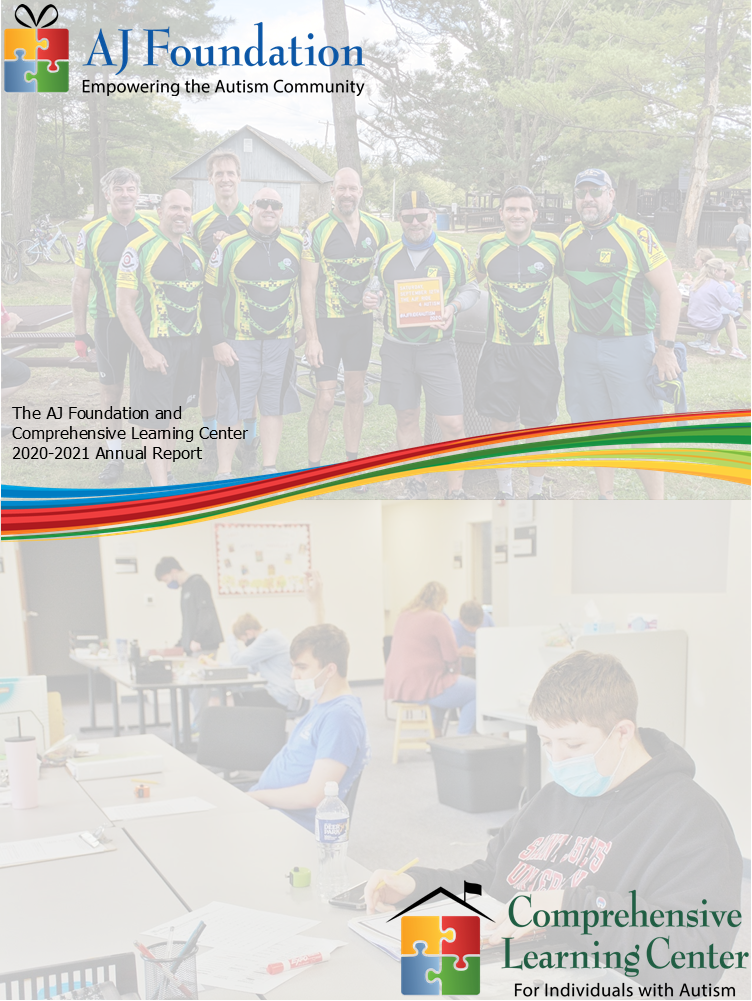 Comprehensive Learning Center & The AJ Foundation 2021
A Success Story for the Ages
As I look back over this past year, we have so many reasons to feel proud and grateful. We have had so much to celebrate! We welcomed new faces to our Education Program which means more children getting services they need! We saw some in our Adult Life Skills Program take on new and exciting job opportunities, forming new connections in our community.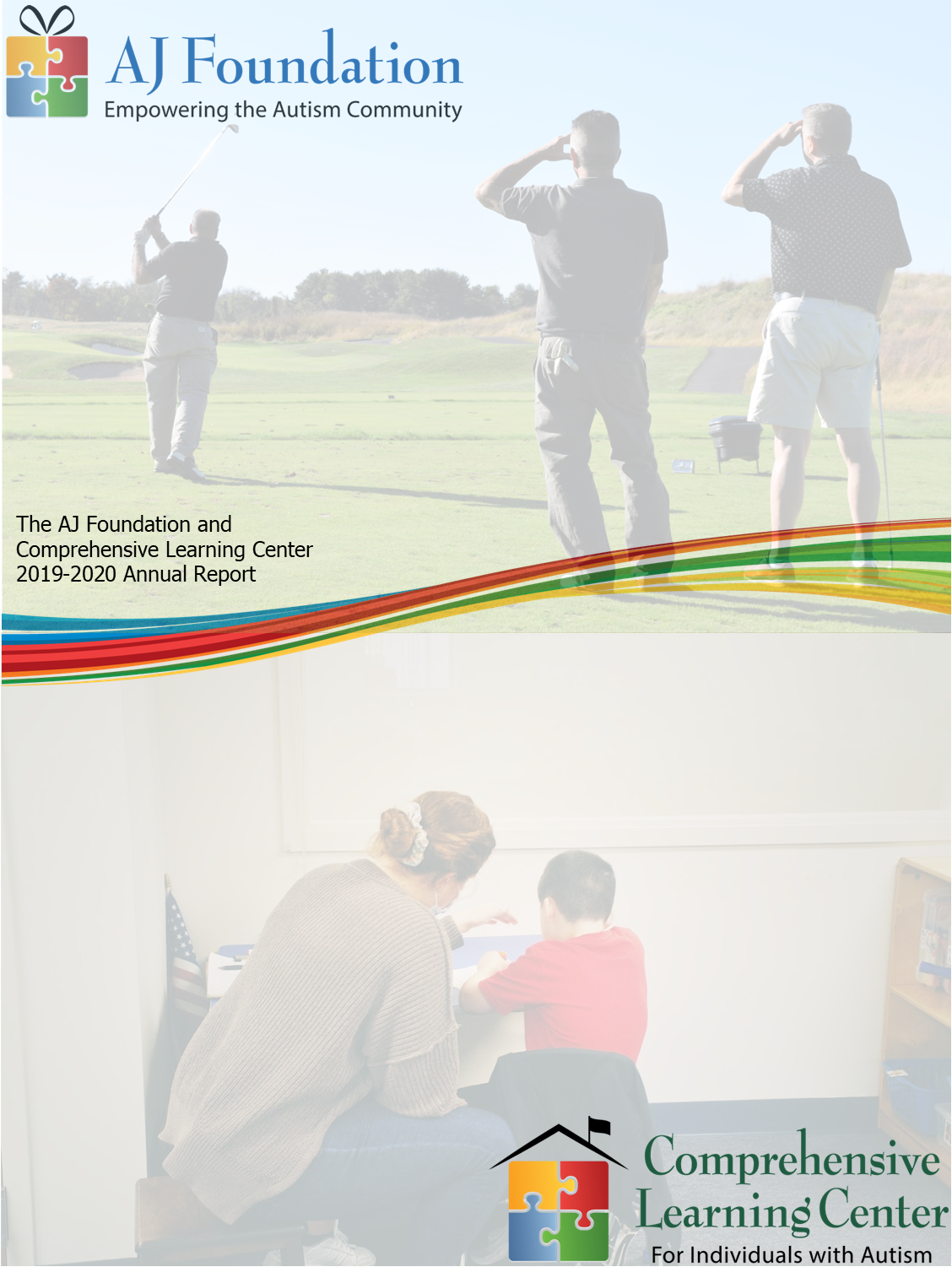 Comprehensive Learning Center & The AJ Foundation 2020
Thank You For Believing In Us
Each year I get this great opportunity to thank all of you for your support of The AJ Foundation. Without it CLC would not be celebrating its 20th year of operation! But in this new year, a year that has brought to all of our doorsteps unexpected and unprecedented challenges, my feelings of gratitude for you, our supporters, has taken on a whole new meaning and new level of apprecation.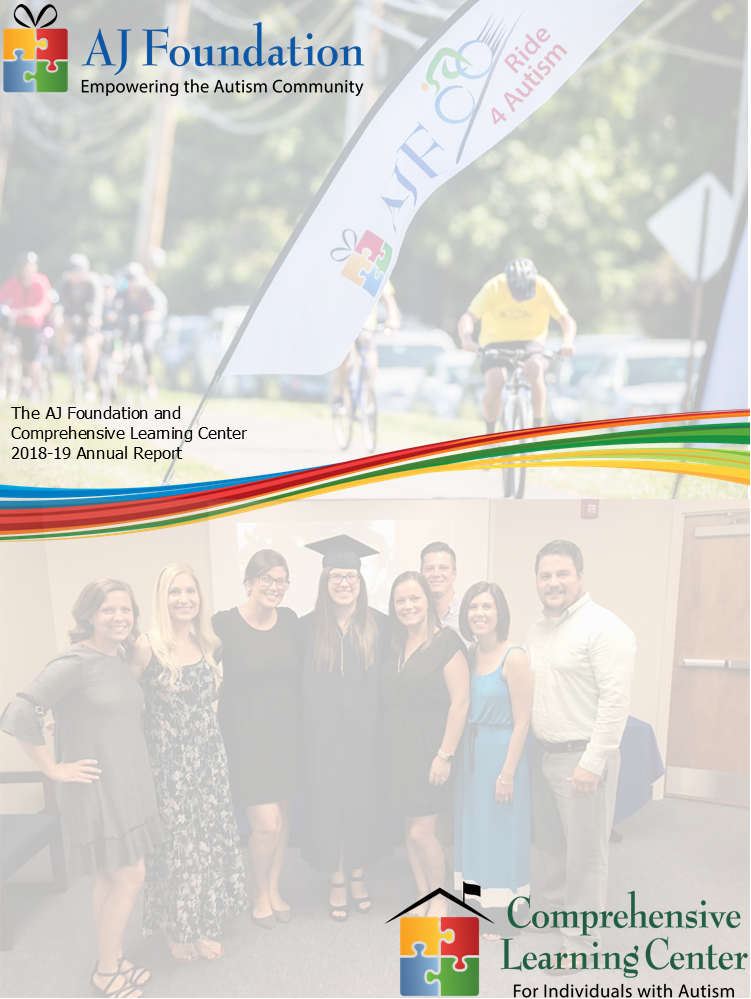 Comprehensive Learning Center & The AJ Foundation 2019
I am so glad to have this opportunity to thank you for all the support you have given us this past year. We have had yet another very successful year of fundraising and, once again, hit new records for each event! We know we could not have done it without your help.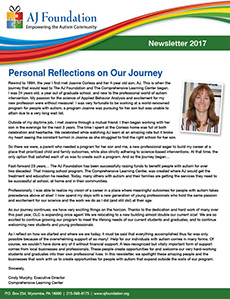 Personal Reflections on Our Journey
Rewind to 1994, the year I first met Joanne Corless and her 4-year old son, AJ. This is when the journey that would lead to The AJ Foundation and The Comprehensive Learning Center began. I was 24 years old, a year out of graduate school, and new to the professional world of autism intervention. My passion for the science of Applied Behavior Analysis and excitement for my new profession here without measure!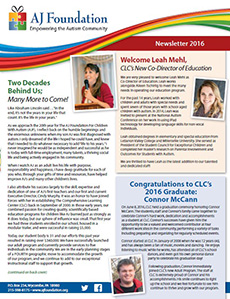 Like Abraham Lincoln said . . . "In the end, it's not the years in your life that count. It's the life in your years." As we approach the 20th year for The AJ Foundation For Children With Autism (AJF), I reflect back on the humble beginnings and the enormous unknowns when my son AJ was first diagnosed with autism. I only dreamed of the life I hoped he could have, and knew that I needed to do whatever necessary to add "life to his years."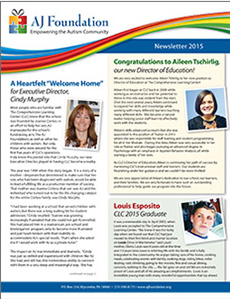 A Heartfelt "Welcome Home"
Most people who are familiar with The Comprehensive Learning Center (CLC) know that the school was founded by Joanne Corless in an effort to help her son, AJ (namesake for the school's fundraising arm, The AJ Foundation), as well as other local children with autism. But only those who were around for the first five years of CLC's operations truly know the pivotal role that Cindy Murphy, our new Executive Director, played in having CLC become a reality.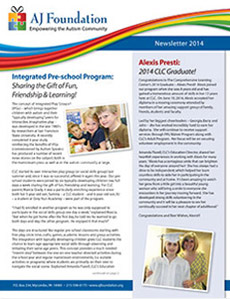 The concept of Integrated Play Groups
The concept of Integrated Play Groups (IPGs) – which brings together children with autism and their "typically developing" peers for interactive, imaginative play – was developed in the late 1980's by researchers at San Francisco State University. A recently completed 3-year study reinforcing the benefits of IPGs (commissioned by Autism Speaks) has produced a number of recent news stories on the subject; both in the mainstream press as well as in the autism community at large.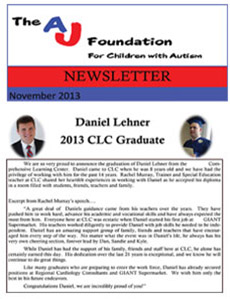 Dear Friends of The AJ Foundation
We are so very proud to announce the graduation of Daniel Lehner from The Comprehensive Learning Center. Daniel came to CLC when he was 8 years old and we have had the privilege of working with him for the past 14 years.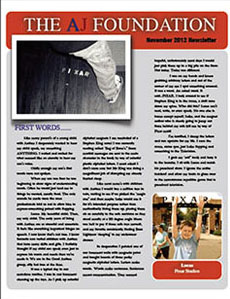 Like many parents of a young child with Autism I desperately wanted to hear my child speak, say something, ANYTHING. I waited and waited for what seemed like an eternity to hear my son's voice. Oddly enough my son's first words were not spoken.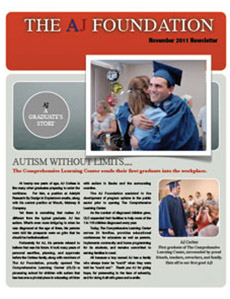 At twenty-one years of age, AJ Corless is like many other graduates preparing to enter the workforce. For him, a position at Adelphi Research By Design in Doylestown awaits, along with his current position at Wouch, Maloney & Company.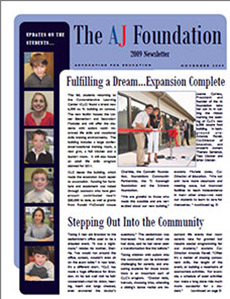 Fulfilling a Dream…Expansion Complete
This fall, students returning to The Comprehensive Learning Center (CLC) found a brand new 6,000 sq. ft. building on campus. The new facility houses the Upper Elementary and Secondary Modules and will offer the students with autism vastly improved life skills and vocational skills training environments.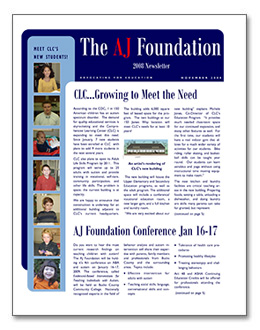 CLC…Growing to Meet the Need
According to the CDC, 1 in 150 American children has an autism spectrum disorder. The demand for quality educational services is skyrocketing and The Comprehensive Learning Center (CLC) is expanding to meet this need. Since January, 7 new students have been enrolled at CLC with plans to add 9 more students in the next several years.

Copyright 2021 Comprehensive Learning Center
Comprehensive Learning Center
444 Jacksonville Road, Warminster, PA 18974
info@clcschoolprograms.org / 215-956-3861